Inauguration of a Statue Commemorating Korea's First Priest and Martyr at the Vatican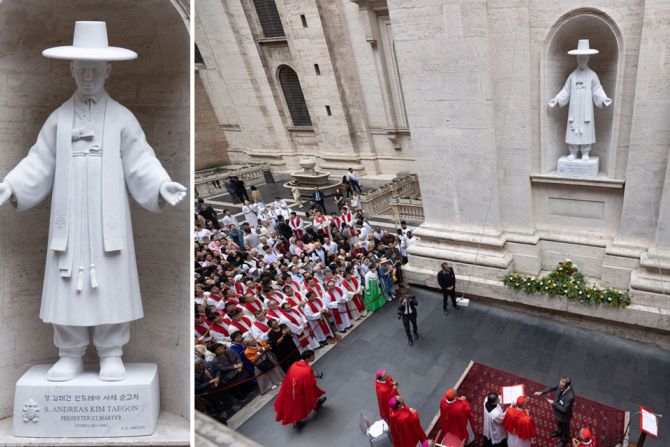 The image of Saint Andrew Kim unveiled today at the Vatican | Credit: Daniel Ibáñez / ACI Prensa
ACI Prensa - EWTN Vatican Bureau, 2023-09-17
On Saturday, September 16, just four days before his feast day, a statue commemorating Saint Andrew Kim Taegon, Korea's first priest and martyr, was blessed and unveiled at the Vatican. The ceremony took place in the presence of a sizable group of Korean faithful.
The statue now stands in one of the niches within St. Peter's Basilica. Cardinal Lazarus Heung-sik You, former Bishop of Daejeon (South Korea) and current Prefect of the Dicastery for the Clergy, presided over a Mass attended by Korean priests, religious, and laypeople. Subsequently, they had the privilege of an audience with Pope Francis.
During their meeting with the Holy Father, Pope Francis highlighted that Saint Andrew Kim serves as an example of "a Church that goes beyond itself to joyfully spread the seeds of the Gospel, even through a life dedicated to serving others, in peace and with love." He further added, "When I reflect on the remarkable life of this great saint, the words of Jesus come to mind: 'Unless a grain of wheat falls into the earth and dies, it remains alone; but if it dies, it bears much fruit.' These words help us spiritually grasp the beautiful narrative of his faith, of which Saint Andrew Kim stands as a precious symbol."
During their audience with the Pope, the Korean delegation presented him with a scaled-down model of the statue, crafted by the artist Han Jin-Sub, who also created the statue unveiled on this occasion.
The imposing statue stands approximately 4 meters tall, weighs about 6 tons, and is fashioned from Carrara marble, rendering it a striking white. It portrays the Korean martyr saint with outstretched arms, donning traditional Korean headwear and attire. The project benefited from the collaborative efforts of the Italian artist Nicolas Stagetti. Saint Andrew Kim, born in 1821, studied in Macao, and was ordained a priest in 1845, becoming Korea's first Catholic priest. He faced persecution and arrest for his evangelization efforts during the rule of the Joseon dynasty and was executed on September 16, 1846, at the age of 25.
Saint John Paul II canonized him, along with a group of 103 Korean martyrs, during his visit to Korea on May 6, 1984.
"The death of the martyrs is similar to the death of Christ on the Cross, because like his, theirs has become the beginning of new life. This new life was manifested not only in themselves - in those who underwent death for Christ - but it was also extended to others," emphasized Pope John Paul II during his visit. "It became the leaven of the Church as the living community of disciples and witnesses to Jesus Christ. "The blood of martyrs is the seed of Christians": this phrase from the first centuries of Christianity is confirmed before our eyes," underscored Pope Wojtyla.
This article was originally published on ACI Prensa.