Zelensky Advisor Criticizes Pope as 'Pro-Russian': An Ongoing Diplomatic Dilemma
EWTN News Nightly , 2023-09-14
Mr. Mykhailo Podolyak, a senior advisor to Ukrainian president Volodymyr Zelensky, criticized Pope Francis on Friday September 8, for what he views as a favorable disposition towards Russia. "It doesn't make sense to speak of a mediator called the pope if he assumes a pro-Russian position, which is evident to everyone," said Podolyak.
This comment comes after the controversy following Pope Francis's message to Russian youth who were not able to attend World Youth Day in Lisbon, at the end of August. The Pope invoked upon the example of Tsar Peter the Great and Empress Catherine the Great as historical Russian figures for the young to aspire to. Later, on his flight back from Mongolia, Pope Francis clarified that he only was speaking of the great Russian culture and not of imperialist aspirations.
Podolyak went on to suggest that this "pro-Russian position" could possibly be the result of Russian investment in the Institute for the Works of Religion (IOR), known colloquially as the Vatican bank
In a communique issued on Saturday, September 9, the Vatican Bank repudiated these allegations. It went on to say "such an activity would be impossible considering the IOR's stringent policies and international sanctions that also apply to the financial sector."
These events underscore the difficulty the Holy See faces in brokering peace talks between Russia and Ukraine and more broadly speaking as a diplomatic actor. It ought to be noted that while there are many different agendas regarding this topic, thus far, only Hungary and the Holy See have unambiguously called for an immediate ceasefire, regardless of national borders. Pope Francis has tried to make it clear, to both sides, that his primary concern is peace; not all political players like that message.
In fact, following Russia's invasion of Ukraine there has been a geopolitical realignment. One of the Pope's concerns is that this war will have a spillover effect, turning from a regional conflict into a global war.
Pope Francis has been an ally to the people in Ukraine and has repeatedly denounced the Russian invasion. Pope Francis addressed this issue again last week during a private meeting with over 40 bishops of the Synod of the Ukrainian Greek-Catholic Church, which is currently being held in Rome.
In his Angelus address, on Sunday September 10, the Pope said, "following their example, let us hear the call to oppose the force of weapons with that of charity, the rhetoric of violence with the tenacity of prayer. Let us do so above all for the many countries that are suffering due to war; in a special way, let us intensify our prayer for beleaguered Ukraine. There are the flags, there, of Ukraine, which is suffering so, so much."
During the Angelus, the Pope also highlighted the example of the Ulma Family, who were beatified that day in Markowa, Poland. This was a historic event as it was the first time in the history of the Church that an entire family, including an unborn child, was beatified. They were executed by the Nazis in 1944 for hiding Jews in their home in Markowa.
These events come at a time when Italian Cardinal, Matteo Zuppi, heads to Beijing in his ongoing effort for peace talks. Cardinal Zuppi has already visited Kyiv, Moscow, and Washington D.C. in attempts to open up channels of dialogue to promote the Pope's peace talks and to build humanitarian initiatives.
(Edited by Matthew Santucci)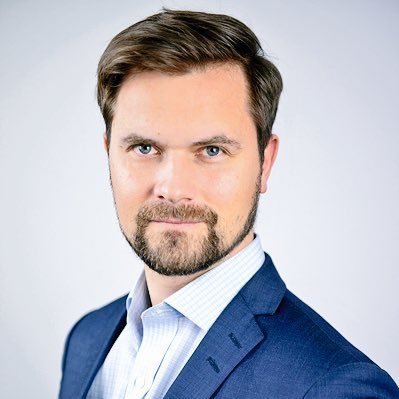 Andreas Thonhauser is EWTN Vatican Bureau Chief. He earned a Master of Business Administration from the WU Executive Academy in Vienna and a Master's degree in German Philology/Anglistics and Americanistics from the University of Vienna. Prior to joining EWTN, Thonhauser worked as the Director of External Affairs for a global human rights organization, and for several media outlets in Vienna, Austria.