Vatican withdraws World Youth Day 2023 stamp after criticism in Portugal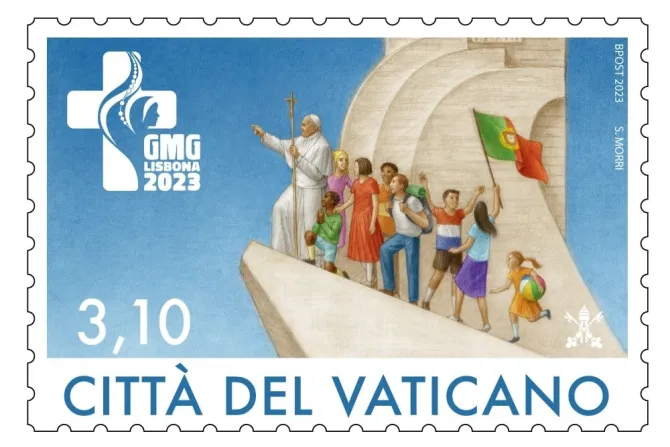 Credit: Philatelic and Numismatic Office of the Vatican City State
EWTN VATICAN BUREAU / CNA, 2023-05-22
A Vatican-produced postage stamp to commemorate the upcoming World Youth Day 2023 in Portugal has been withdrawn after criticism over its use of a mid-20th-century monument that is controversial in some Portuguese circles.
The stamp, created by the Vatican Philatelic Service and issued on May 16, shows Pope Francis leading a group of children up the Monument to Discoveries. The Lisbon monument was built in 1960 for the 500th anniversary of the death of the Portuguese explorer Henry the Navigator.
In the stamp's design, Pope Francis takes the place of Henry the Navigator on the prow of the ship. It aimed to present "a ship that guides young people and the Church towards the future."
The Governorate of the Vatican City State withdrew it after the design drew negative comments because it "recalls a colonial past very distant from Pope Francis' message of universal fraternity," according to Vatican News.
Other critics faulted the design for seeming to resemble the propaganda of the Salazar dictatorship. The monument was built at a time when the dictatorship sought to strengthen nationalist sentiment and support Portugal's colonial expansion in Africa, the Associated Press reported.
Portuguese Bishop Carlos Moreira Azevedo, who is now a delegate to the Pontifical Committee for Historical Sciences, said that the stamp was "in bad taste."
A World Youth Day spokesperson initially told the radio station Renascença, whose owners include the Patriarchate of Lisbon, that controversies are "normal food on social networks" and that it is important "not to distort the fundamental objectives."
The stamp was intended to sell for 3.10 euros, about $3.30, the Associated Press reported. The Vatican's numismatic and philatelic office is a major source of income for Vatican City through its sales of coins, stamps, and medallions.
A new stamp design is being prepared to commemorate the upcoming World Youth Day.
World Youth Day 2023 will take place in Lisbon Aug. 1–6. The international Catholic gathering is usually held every three years. It draws hundreds of thousands of attendees, including the pope. The Lisbon event was postponed by a year due to the COVID-19 pandemic.
This article was originally published on Catholic News Agency.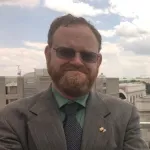 Kevin J. Jones is a senior staff writer with Catholic News Agency. He was a recipient of a 2014 Catholic Relief Services' Egan Journalism Fellowship.