Vatican: Italian cardinal entrusted with Ukraine peace mission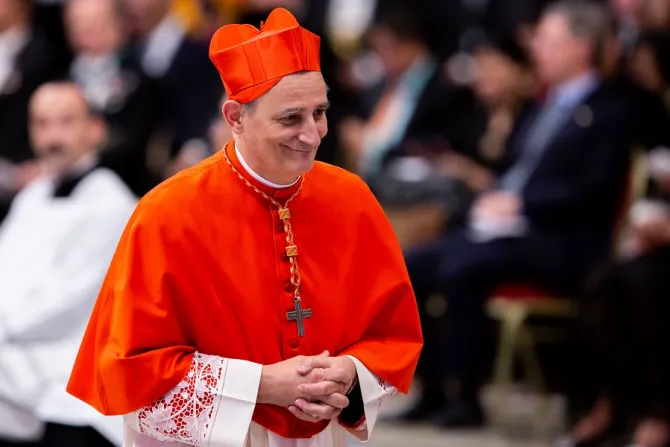 Credit: Daniel Ibáñez / CNA
EWTN VATICAN BUREAU / CNA, 2023-05-22
Cardinal Matteo Zuppi has been asked by Pope Francis to head a peace mission between Russia and Ukraine on behalf of the Vatican, the Holy See press office director said Saturday.
"The timing of such a mission, and its modes, are currently being studied," Matteo Bruni said in a brief statement to journalists May 20.
Bruni said Pope Francis hopes the operation, which will be carried out in agreement with the Secretariat of State, "can initiate paths of peace."
Zuppi, the archbishop of Bologna and president of the Italian bishops' conference, has strong ties to the influential Sant'Egidio Community.
Sant'Egidio is a Catholic lay association that aids migrants and promotes ecumenism. It has also helped negotiate reconciliation, including by holding peace talks in countries like Mozambique and South Sudan.
Pope Francis said at the end of April that the Vatican was involved in a secret peace mission to end the conflict in Ukraine.
Both Ukrainian and Russian officials were quick to deny that negotiations were taking place, but a close papal aide confirmed the pope's statement in an interview with an Italian news outlet published earlier this month.
On Saturday, Pope Francis told a group of religious with a strong devotion to Mary that he consecrated Russia and Ukraine to the Immaculate Heart of Mary in 2022, because the world needs to learn to love with tenderness and "without making calculations."
"And to you, who are the Company of Mary, I ask you to renew this act of entrustment and this supplication," the pope told the Montfort Missionaries at the end of their general chapter. "May our Heavenly Mother help us all to courageously and creatively seek paths of forgiveness, dialogue, acceptance, and peace for all humanity."
This article was originally published on Catholic News Agency.
Hannah Brockhaus is Catholic News Agency's senior Rome correspondent. She grew up in Omaha, Nebraska, and has a degree in English from Truman State University in Missouri.