Rome to Host Congress on New Documents of Pius XII and the Holocaust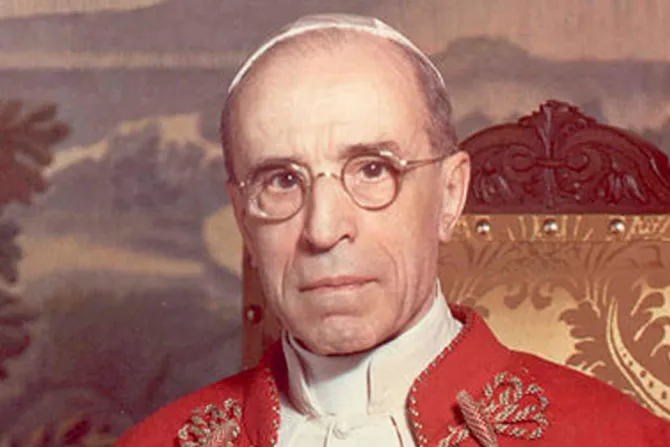 Pope Pius XII | Credit: Flickr Oregon State University (CC BY-SA 2.0)
ACI Prensa - EWTN Vatican Bureau, 2023-09-18
From October 9th to 11th, a congress will convene at the Pontifical Gregorian University in Rome, bringing together historians, experts, and theologians. The purpose of this event is to analyze the new documents from the pontificate of Pope Pius XII, which include various archives related to the Holocaust.
The congress is based on the new documents made available to specialists by Pope Francis in 2020. While these archives are estimated to consist of 16 million pages, researchers have compiled information that can now be shared with the general public.
"New Documents from the Pontificate of Pope Pius XII and their Meaning for Jewish-Christian Relations: A Dialogue between Historians and Theologians" will bring together international historians and theologians.
A statement from the Pontifical Gregorian University specifies that the congress will be divided into 7 sessions. The first, on October 9th, will address "the motivations and decisions of Pope Pius XII regarding fascism, Nazism, and communism, in an attempt to balance his roles as the head of the Church and the Holy See."
Sessions 2, 3, and 4 will take place on Tuesday, October 10th. The second session will explore "the Vatican's worldview as a whole in the face of the Holocaust, particularly its views on nations and religions that prompted responses from officials, prelates, and laypeople around Pius XII."
The third session will delve into "the theorization and practice of racial laws, originating in Nazi Germany and spreading throughout Europe," while the fourth will be dedicated to the rescue of Jews, with particular attention to the 80th anniversary of the raid on Rome. Sessions 5, 6, and 7 will be held on October 11th. The fifth will showcase the reactions of diplomats and nunciatures to the Holocaust, while the sixth "will follow some particularly critical moments of the post-war period, such as assistance to Nazi war criminals and Axis members, as well as the Vatican's efforts on behalf of Germans convicted of war crimes in international military tribunals."
The final session will trace the path to the conciliar declaration "Nostra Aetate" in 1965 when "Vatican II rejected anti-Semitism and emphasized the profound link between Christianity and Judaism."
Among the participants in the congress are Bishop Étienne Vető, Auxiliary Bishop of Reims (France), and director of the Cardinal Bea Center for Jewish Studies at the Pontifical Gregorian University. Cardinal Bea was a confessor and collaborator of Pope Pius XII, a man who played an essential role in the dialogue with the Jews and in the declaration "Nostra Aetate." Also present will be Dr. Iael Nidam-Orvieto, Director of the International Institute for Holocaust Research (Yad Vashem in Jerusalem); Dr. Suzanne Brown-Fleming, Director of the Jack, Joseph, and Morton Mandel Center for Advanced Holocaust Studies in Washington D.C.; Vatican Secretary of State Cardinal Pietro Parolin; and Riccardo Di Segni, Rabbi of Rome.
This article was originally published on ACI Prensa.