Pope Francis to Meet Relatives of Israeli Hostages and Palestinian Families from Gaza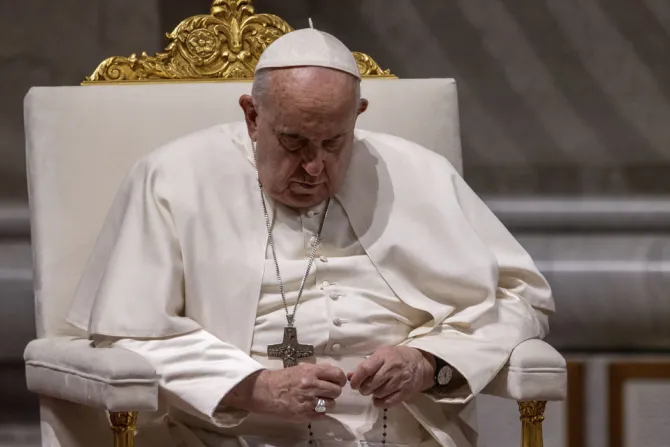 Pope Francis. | Credit: Daniel Ibáñez / EWTN Vatican
ACI Stampa /EWTN Vatican , 2023-11-18
In a significant move underscoring his commitment to peace and humanitarian concerns, Pope Francis will hold meetings on Wednesday, November 22, with families profoundly affected by the ongoing conflict in Gaza. The encounters, set to take place on the sidelines of the General Audience at the Vatican, are being described as gestures of "spiritual closeness to the sufferings of each individual".
Humanitarian Focus of the Meetings
Matteo Bruni, Director of the Holy See Press Office, confirmed the meetings, emphasizing their humanitarian nature. The Pope's intention, as reiterated in his Angelus address last Sunday, is to express his spiritual proximity to all who suffer in the conflict, regardless of their faith or ethnicity. "Every human being, whether Christian, Jewish, Muslim, of any people and religion, is sacred, is precious in the eyes of God, and has the right to live in peace," Pope Francis stated.
Escalating Casualties in Gaza
The Gaza Strip continues to witness a rising death toll following raids and attacks since October 7. Reports from Hamas indicate that the enclave has seen at least 12,000 deaths, including 5,000 children, a stark reminder of the severe human cost of the conflict.
The Hostage Crisis
The situation of the hostages, approximately 240 individuals including the elderly, women, children, and infants, remains uncertain since their abduction. To date, only four people have been released through international diplomatic efforts, while a fifth was rescued by Israeli troops. Tzachi Hanegbi, Israel's National Security Advisor, revealed that there is currently no agreement for their release. The Al-Qassam Brigades, the military wing of Hamas, have reported transferring some hostages to "care centers" due to the severity of their conditions, according to Israeli media.
Gratitude from Hostages' Spokesperson
Rachel Goldberg-Polin, representing the hostages' families and mother of 23-year-old Hersh, injured and kidnapped during the assault at the Supernova desert rave, expressed her gratitude to the Pope in a video message. "Thank you for finding the time to try to help us free the 240 human beings buried alive under Gaza," she said.
This article was originally published on ACI Stampa.