Pope Francis: Catholics in Korea called 'to a burning faith'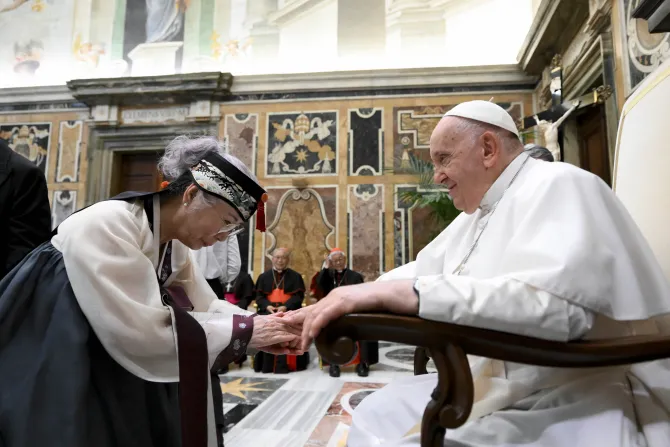 Vatican Media
EWTN Vatican Bureau/CNA, 2023-09-16
Pope Francis on Saturday invited Catholics in Korea to emulate the zeal of their patron saint, St. Andrew Kim Tae-gŏn, as his statue was blessed at St. Peter's Basilica.
"[St. Andrew Kim Tae-gŏn's] figure invites us to discover the vocation entrusted to the Korean Church, to all of you: You are called to a young faith, to a burning faith that, animated by love of God and neighbor, becomes a gift," he said Sept. 16.
The pope met with a delegation of 300 members of the Catholic Church in Korea several hours before a permanent installation of a statue of Kim was unveiled in a niche on the outside of St. Peter's Basilica.
Born in 1821, Kim was the first native Korean priest and one of the country's earliest martyrs. He was tortured and beheaded by the Korean Joseon Dynasty at only 25 years old.
"With the prophecy of martyrdom, the Korean Church reminds us that we cannot follow Jesus without embracing his cross and that we cannot proclaim ourselves Christians without being willing to follow the way of love to the end," Pope Francis said.
Looking at this saint, he continued, "how can we not feel exhorted to cultivate apostolic zeal in our hearts, to be a sign of a Church that goes out of itself to joyfully spread the seed of the Gospel, including through a life spent for others, in peace and with love?"
The blessing of the 6-ton, 12-foot-tall marble statue of St. Andrew Kim Tae-gŏn took place on Sept. 16, the anniversary of his martyrdom.
The statue depicts the Korean martyr with his arms outstretched and wearing a traditional Korean dopo and a flat hat.
Korean Cardinal Lazzaro You Heung-sik, prefect of the Dicastery for the Clergy, celebrated Mass in St. Peter's Basilica for the delegation before the statue was blessed by Cardinal Mauro Gambetti, archpriest of St. Peter's Basilica.
"When I think of the intense life of this great saint, Jesus' words come back to my heart, 'If the grain of wheat, when it falls into the earth, does not die, it remains alone; but if it dies, it bears much fruit,'" the pope said.
"These are words that help us to read with spiritual intelligence the beautiful story of your faith, of which St. Andrew Kim is a precious seed: he, Korea's first martyr priest, killed at a young age shortly after receiving ordination."
Pope Francis also pointed out the large number of priestly vocations in Korea and asked that some of them be "kicked out" of the country to be missionaries in other lands.
"I have had the experience of seeing them in Argentina and your missionaries do so much good," he said.
He also invited Korean Catholics to be "apostles of peace" in every area of their life.
The pope recalled that World Youth Day 2027 will be in Seoul, South Korea, and asked that part of the preparations be a zealous devotion to spreading the Word of God.
"In particular, I would like to entrust the Korean Church specifically to the youth," he said. "In spite of your wonderful history of faith and the great pastoral work you enthusiastically carry out, so many young people, even among you, are seduced by the false myths of efficiency and consumerism, and enthralled by the illusion of hedonism."
"But the hearts of young people seek something else," he continued. "They are made for much broader horizons: take care of them, seek them out, approach them, listen to them, proclaim to them the beauty of the Gospel so that, inwardly free, they may become joyful witnesses of truth and fraternity."
Hannah Brockhaus is Catholic News Agency's senior Rome correspondent. She grew up in Omaha, Nebraska, and has a degree in English from Truman State University in Missouri.