Pope Francis Applauds the 20 Martyrs of the Spanish Civil War Beatified in Seville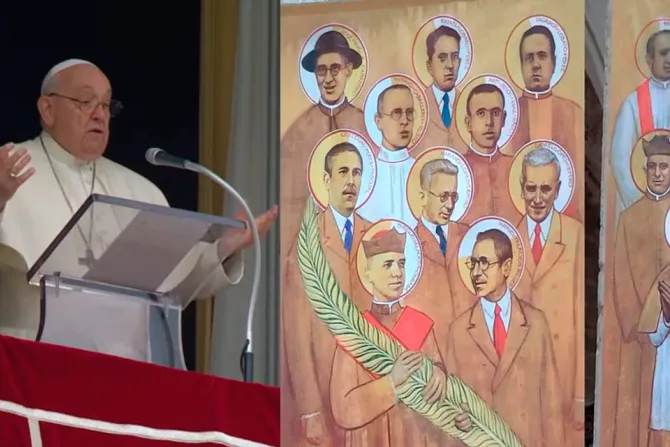 Pope Francis at Today's Angelus and Martyrs Beatified in Seville | Credit: Screenshot from Youtube Vatican News / Archdiocese of Seville
ACI Prensa / EWTN Vatican, 2023-11-19
Pope Francis asked for applause for the 20 martyrs beatified yesterday in the Cathedral of Seville, priests and laypeople who were murdered out of hatred for the faith during the onset of the Spanish Civil War in 1936.
"Yesterday in Seville, Manuel González Serna, a diocesan priest, and 19 fellow priests and laypeople, murdered in 1936 during the religious persecution of the Spanish Civil War, were beatified," the Holy Father stated after the Angelus prayer this Sunday at the Vatican.
"These martyrs bore witness to Christ until the end. May their example strengthen the many Christians who in our time are discriminated against for their faith. Let's give a round of applause for the new blesseds!" exclaimed Pope Francis.
Cardinal Marcello Semeraro, prefect of the Dicastery for the Causes of Saints, presided over the beatification Mass of the 20 martyrs on Saturday, November 18: 10 priests, 1 seminarian, and 9 laypeople (including one woman).
According to the Archdiocese of Seville, they were murdered "after being detained without trial, amid the climate of persecution against anyone who professed to be a member of the Catholic Church."
The new blesseds are: Fr. Manuel González-Serna Rodríguez, María Dolores Sobrino; Fr. Francisco de Asís Arias Rivas, Fr. Juan María Coca Saavedra, José María Rojas, Manuel Luque Ramos, Agustín Alcalá Heinke, Fr. José Vigil Cabrerizo, and Fr. Antonio Jesús Díaz Ramos. The group is completed by Enrique Palacios Monrabá, Manuel Palacios Rodríguez, Mariano López-Cepero y Muru, Gabriel López-Cepero y Muru, Cristóbal Pérez Pascual, Fr. Mariano Caballero Rubio, Fr. Pedro Carballo Corrales, Fr. Miguel Borrero Picón, Fr. Salvador Lobato Pérez, Rafael Lobato Pérez, and Fr. Rafael Machuca y Juárez de Negrón.
This article was originally published on ACI Prensa.