Cardinal O'Malley 'surprised, disappointed' by abuse expert's criticism of Vatican commission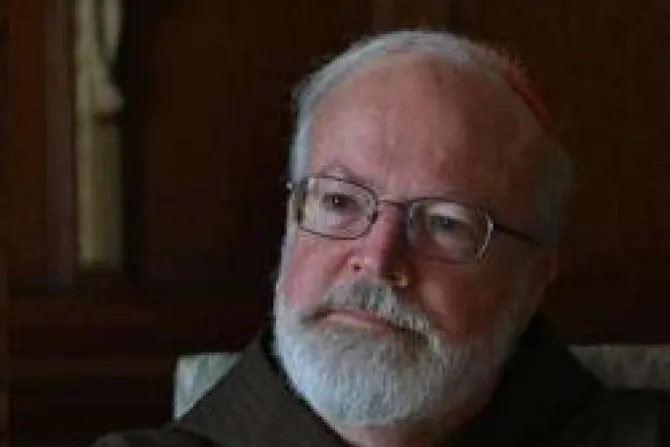 Daniel Ibáñez/CNA
EWTN Vatican Bureau/CNA, 2023-03-30
Cardinal Sean O'Malley said Thursday he strongly disagrees with a critique of the Vatican's safeguarding commission by abuse expert and recently resigned member Father Hans Zollner.
In a new statement March 30, O'Malley, who heads the commission, said: "I am surprised, disappointed, and strongly disagree with [Zollner's] publicly-issued assertions challenging the commission's effectiveness."
The 56-year-old Zollner, a founding member of the Vatican's Commission for the Protection of Minors, said in a statement March 29 that "structural and practical issues" within the commission had led him "to disassociate" from it.
A statement from commission president O'Malley issued a few hours earlier had characterized the Jesuit priest's departure as an effort to reduce his already significant administrative responsibilities, including "his recent appointment as consultant for safeguarding to the Diocese of Rome."
The commission issued an updated statement on March 30 in which O'Malley said he was "supplementing" his earlier sentiments regarding Zollner's resignation.
"We do both share the view that the protection of children and vulnerable persons remains at the heart of the Church's mission and the commission will continue to manifest that conviction," he said.
"The commission has a plenary meeting scheduled in the next few weeks during which we can address these and other matters more fully as a group."
In his critique of the commission, Zollner said he had "grown increasingly concerned" with the Vatican's safeguarding commission and its lack of "responsibility, compliance, accountability, and transparency."
"I am convinced that these are principles that any Church institution, let alone the Pontifical Commission for the Protection of Minors, is bound to uphold," he said.
In early March, Zollner was appointed a consultant to the Diocese of Rome's new office for the protection of minors and vulnerable adults.
He is also the director of the Institute of Anthropology: Interdisciplinary Studies on Human Dignity and Care (IADC), hosted by the Pontifical Gregorian University.
The IADC, formerly called the Center for Child Protection, is an academic institute offering higher-education degrees in abuse safeguarding and anthropology.
In his March 29 statement, Zollner also criticized a lack of transparency about decisions in the Vatican safeguarding commission, including problems with "insufficient information and vague communication" with members on how particular decisions were made.
"With regard to compliance, there has been a lack of clarity regarding the selection process of members and staff and their respective roles and responsibilities," the priest also said. "Another area of concern is that of financial accountability, which I believe is inadequate. It is paramount for the commission to clearly show how funds are used in its work."
The Pontifical Commission for the Protection of Minors, instituted in 2014, serves as an advisory body to the pope, providing recommendations on how the Church can best protect minors and vulnerable adults.
Hannah Brockhaus is Catholic News Agency's senior Rome correspondent. She grew up in Omaha, Nebraska, and has a degree in English from Truman State University in Missouri.