Cardinal Grech shares blessing for Synod on Synodality to be given after Sunday Mass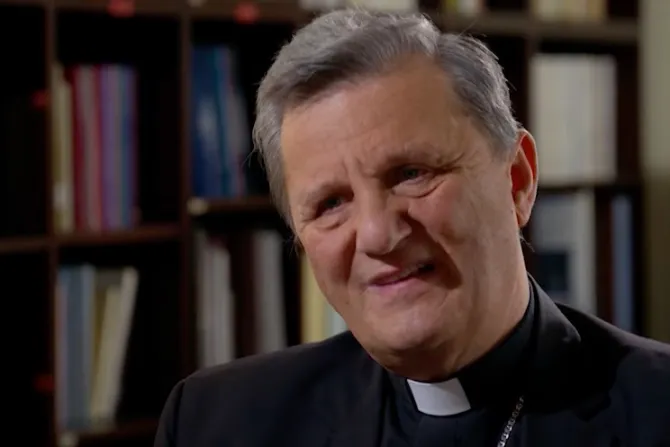 Cardinal Mario Grech, who serves as secretary general of the global Synod on Synodality, speaks to EWTN Rome Bureau Chief Andreas Thonhauser for an exclusive interview that aired on EWTN on May 22, 2023. | Credit: EWTN Vatican3
Catholic News Agency - EWTN Vatican Bureau, 2023-09-16
Cardinal Mario Grech has asked Catholics around the world to pray a blessing and special intercessory prayers for the Synod on Synodality.
Grech, general secretary of the synod, sent a letter Sept. 12 asking bishops to help facilitate prayers for those participating in the first session of the 16th Ordinary Assembly of the Synod of Bishops, which will take place Oct. 4–29 at the Vatican on the topic of synodality.
The letter included a blessing to say at the end of Sunday Masses on Oct. 1 and intercessory prayers to be used during weekday or Sunday Masses or as intercessions during Vespers, also called Evening Prayer.
Grech's letter quoted Pope Francis' prayer intention for the month of October 2022, that "without prayer, there will be no synod."
"The synod is first and foremost an event of prayer and listening that involves not only the members of the synod assembly but every baptized person, every particular Church," Grech wrote. "All of us, in fact, are called at this time to unite in the communion of prayer and in the insistent invocation of the Holy Spirit to guide us in discerning what the Lord is asking of his Church today."
The cardinal asked bishops to seek "unanimous and unceasing prayer" for the synod assembly from Catholics in their dioceses, especially the members of monastic communities.
"The first step of prayer," he said, "is listening to the Word of God, listening to the Spirit. Therefore, the first contribution of every baptized person to the proceedings of the synodal assembly will be listening to the Word of God and the Spirit in the knowledge that the voice of the Spirit is 'sine qua non' for the Church body."
The Synod on Synodality, initiated by Pope Francis in October 2021, is a multiyear, worldwide undertaking during which Catholics were asked to submit feedback to their local dioceses on the question "What steps does the Spirit invite us to take in order to grow in our 'journeying together?'"
The Church's synodal process has already undergone diocesan, national, and continental stages. It will culminate in two global assemblies at the Vatican. The first will take place Oct. 4–29 and the second in October 2024 to advise the pope on the topic: "For a Synodal Church: Communion, Participation, Mission."
This article was originally published on Catholic News Agency.
Hannah Brockhaus is Catholic News Agency's senior Rome correspondent. She grew up in Omaha, Nebraska, and has a degree in English from Truman State University in Missouri.