Basilica di Santa Maria Maggiore The Closing of the Month of May Devotions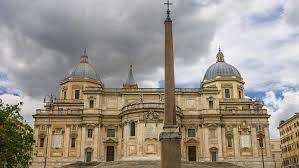 Vatican Media
ACI Stampa, 2023-05-26
At the conclusion of the Month of May devotions, the Papal Basilica of Santa Maria Maggiore "invites all faithful to participate in two intense and devout moments of prayer."
An official press release from the Basilica reports the events. The first event will take place on Saturday, May 27, at 9:00 PM in the square in front of the Basilica, where the Salve Regina will be prayed. This ancient Marian antiphon first appeared in the Cistercian antiphonary around 1440. The celebration of the Salve Regina will be divided into five moments of singing preceded by an introduction and followed by a conclusion, including the enunciation of the theme, reading of the Word of God, supplication to the Virgin, and the singing of the complete Salve.
The medieval Marian antiphon is the most solemn and popular prayer still recited today by the O.S.M. Fathers at the end of each liturgical celebration as a greeting and invocation to the Virgin.
"The author of this text is Father Ignacio M. Calabuig Adán, O.S.M, and the edition is curated by Father Ermanno M. Toniolo, O.S.M. The performance is entrusted to the Sisters of Consolation," the press release reports.
On Wednesday, May 31, the last day of the month, the recitation of the Rosary will be followed by the Act of Consecration to Mary. In the sign of Marian devotion, June will also begin with the School of Mary on Saturday, June 3, the first Saturday of the month. At 4:00 PM, the Rosary will be recited, followed by a Marian catechesis given by Father Raffaele Di Muro, Dean of the Seraphicum College at 4:40 PM.
The Basilica reminds everyone that it is possible to follow its activities and stay informed through social media channels such as Facebook, Instagram, Twitter, and Telegram.
This article was originally published on ACI Stampa